History- Thomas Rea & Sons
Michael Rea is the third generation of funeral directors in his family, after having followed in the footsteps of his father, Vincent Rea, and grandfather Thomas Rea, who first established Thomas Rea & Sons in Thornaby in 1928.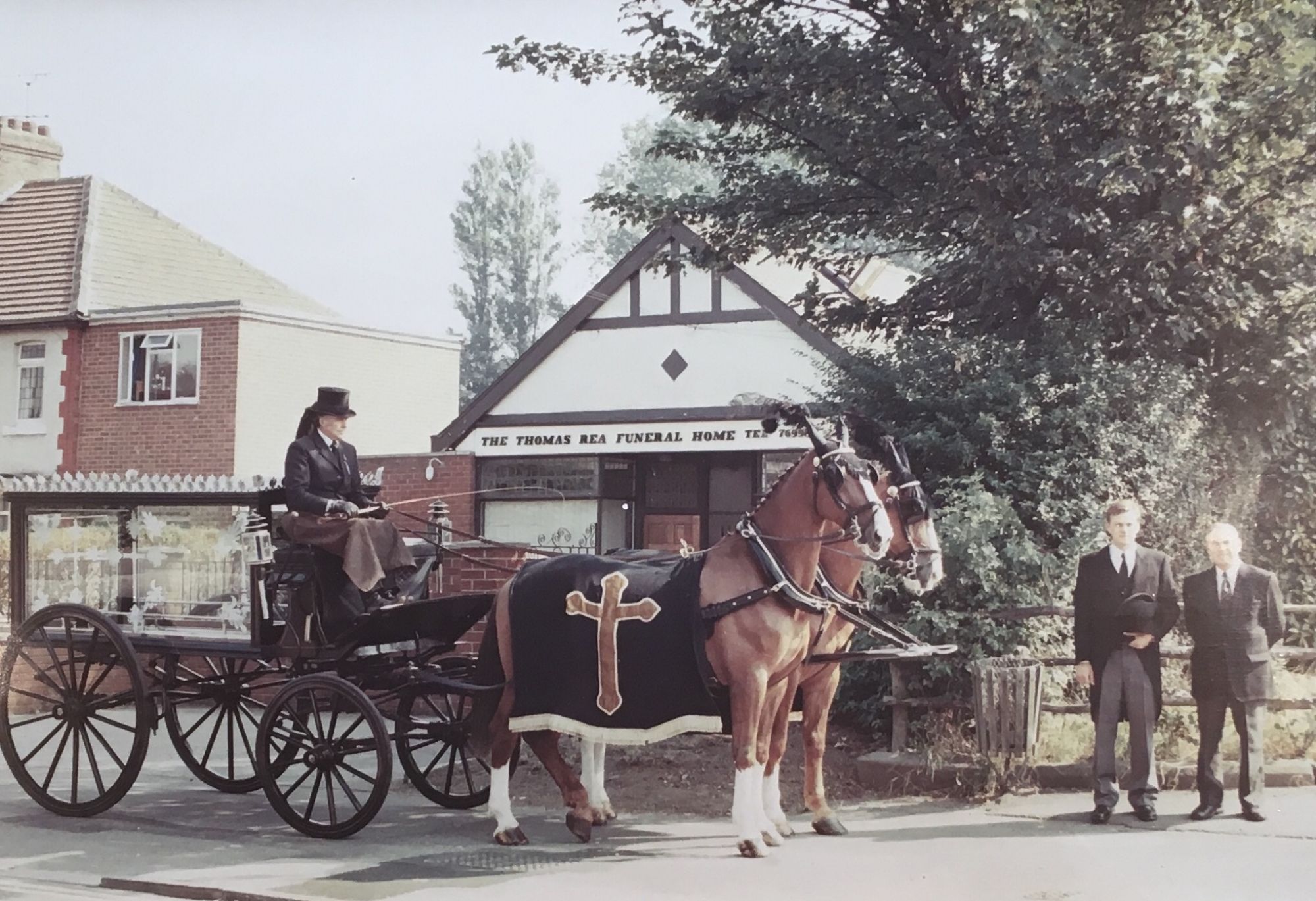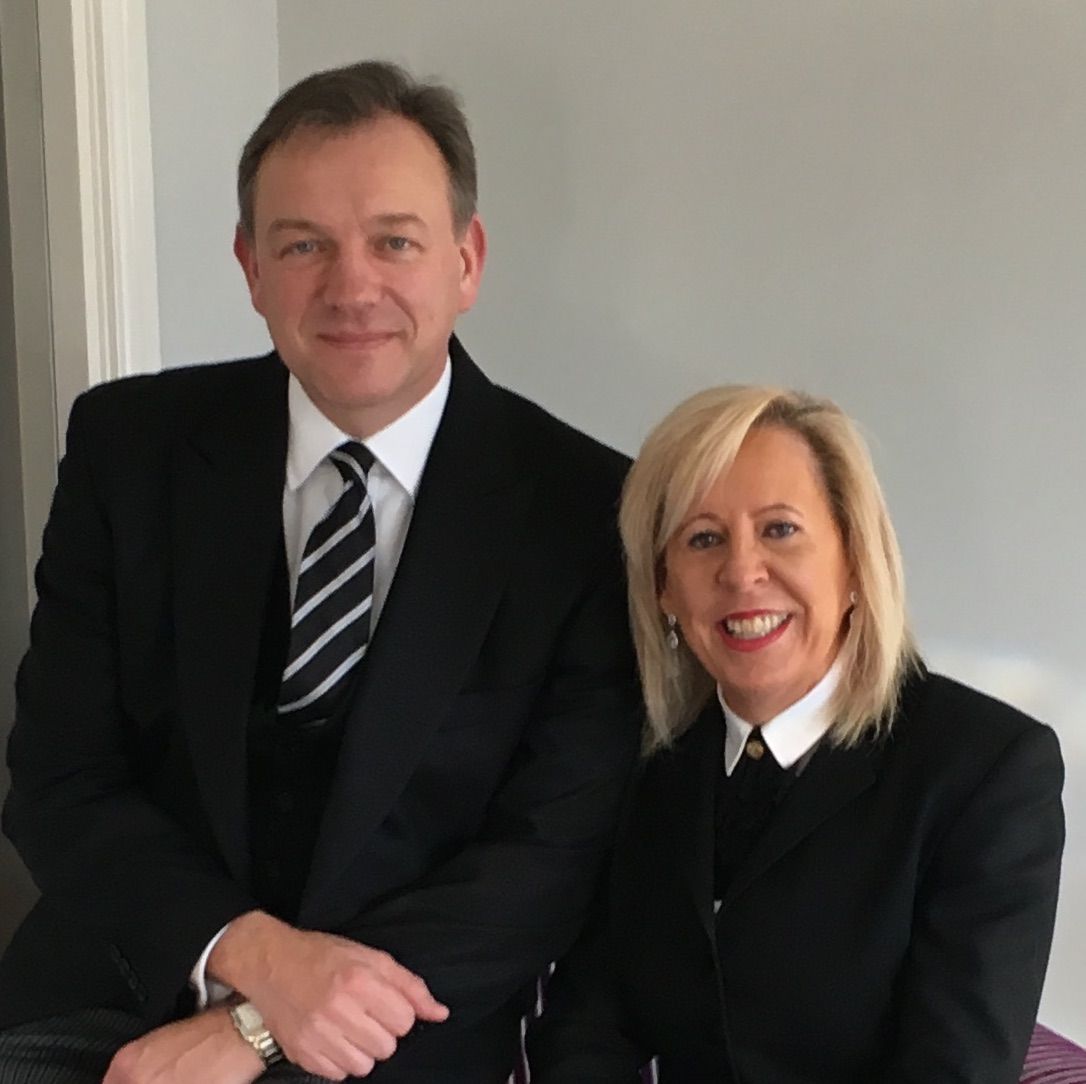 Michael, alongside Barbara, have since established a proudly independent funeral business and have successfully expanded their company to include manager David Knowles and funeral director Jen Lawson. Together, they have an impressive collective experience of over 100 years serving families across North Yorkshire and the Tees Valley.
With branches located in Great Ayton and Stokesley, we possess extensive local knowledge of customs and traditions prevalent in the surrounding regions of North Yorkshire and Teesside. Our expertise extends to areas including Seamer, Kirkby, Carlton, Faceby & Swainby, enabling us to provide valuable guidance on Registration for Northallerton, Middlesbrough, Stockton-on-Tees & Guisborough districts.
We have also expanded the area we serve to include Darlington. Our dedicated Darlington Funeral Service branch, situated near the Thompson Street crossroads on North Road, offers comprehensive assitance for the community in this area.
Hello. My name is David Knowles, and I am the Operations Manager at Rea Funeral Service. Previously I worked for a corporate Funeral Service and have over 25 years experience, I have done most roles in the Funeral industry with my previous role being Regional Operations Manager across various parts of the UK prior to joining Rea Funeral Service.
I have worked in the Funeral industry my entire adult life, starting at 16 years old at Thomas Rea and Son's in Thornaby. I have a huge passion for supporting and helping people and I am thankful that my role helps make a real difference to families. With us being a family business we can provide that extra touch which is so important.
My role is also to continue and build on Rea Funeral Service's independent legacy through the next generations.
Away from work I am married to Charlenne, we have two amazing boys, Cooper and Cayden, we also have two Labradors, Holly and Luna and a little cat called Goose. I am an avid Formula One fan, I love spending time on my little rib boat on the river tees, I love walking in the hills with our dogs and I enjoy our garden. I really enjoy working and making a real difference in our community and am a proud member of Teesside West Rotary Club.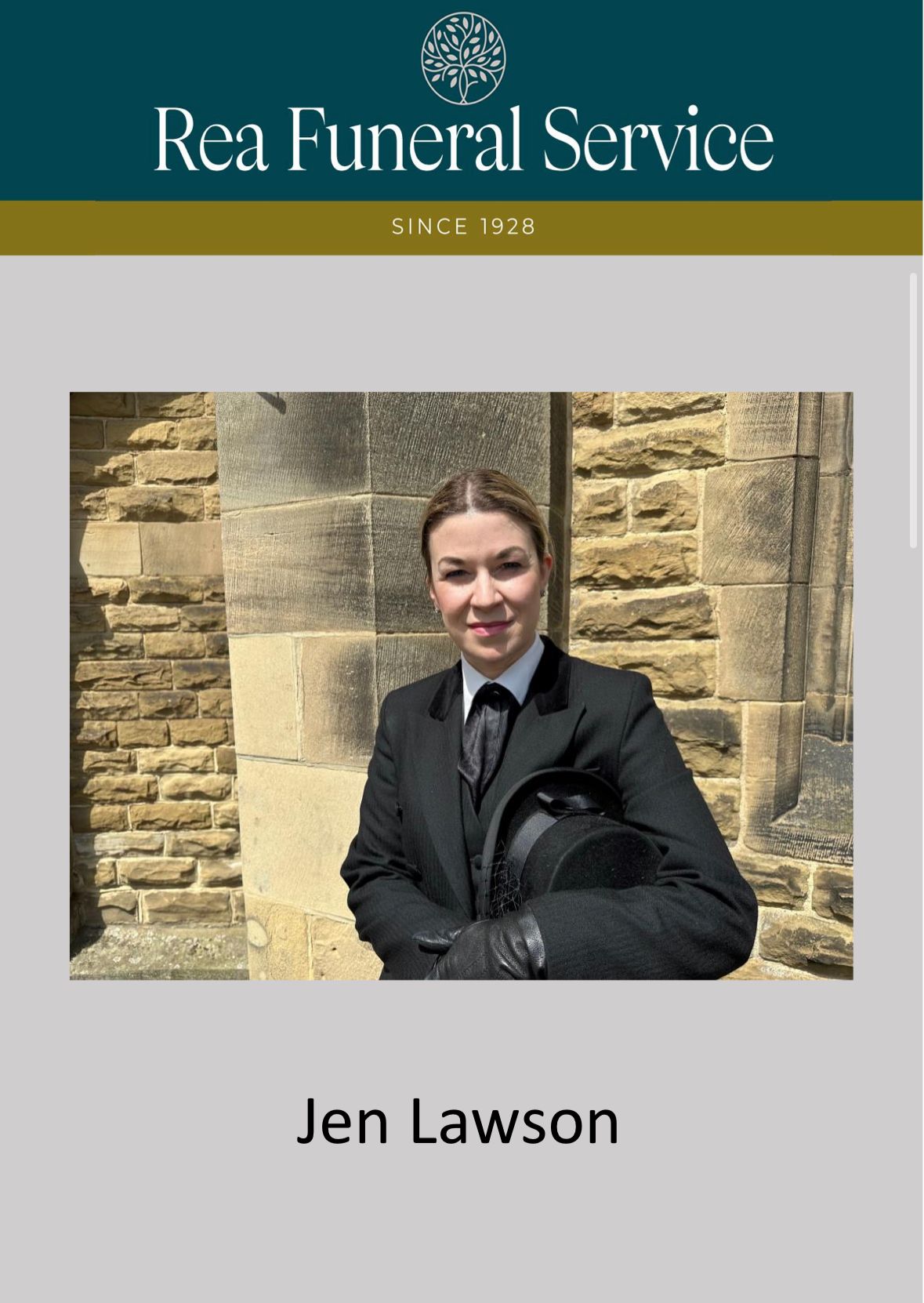 Hello, my name is Jennifer, however I like to be called Jen. I have worked in the Funeral industry for 16 years and wanted to be a Funeral Director since I was 14 after attending my beloved Gran's Funeral, I felt I wanted to and could be there to support and help people through one of the most challenging times. I feel exceptionally lucky and proud to do the job I do, for this reason I am very passionate about my role and always go above and beyond to help families give their loved ones the send off they absolutely deserve.
The most rewarding and best part of my job is knowing I have made the hardest time in someone's life even a tiny bit easier.
In my spare time I enjoy spinning classes at the gym, going out for meals with friends, reading crime and thriller novels and being a cat mum to Dave, Tiff and Pumpkin.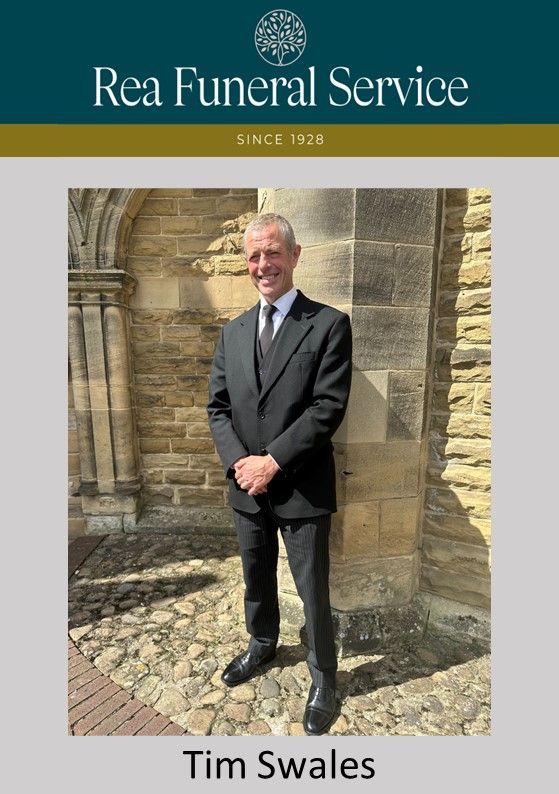 Hello, my name Tim and I am a Funeral Service Operative. I am a local lad and previously lived in Swainby for nearly 23 years, I got married in 1982, I lived in Yarm for three years before moving to Stokesley as my Wife is a Stokesley lass. My Wife and I have two sons and we have lived in Stokesley for 38 Years now. I love getting out on the lanes on my bike, walking on the moors, being outdoors and socialising in Stokesley, supporting local businesses whenever and wherever I can. Previously, I worked at Preston's of Potto as a HGV fitter for 12 years and then spent nearly 30 years as a Police Officer. I am a lifelong Boro fan albeit I don't get to many matches these days.
I really enjoy my role with Rea Funeral Service, I like serving the local community and giving comfort, support and reassurance to those who are grieving. I feel my role gives me a sense of reward and satisfaction when clients and their families thank us for what we have done. I appreciate working for a local family business who make a real difference in our community.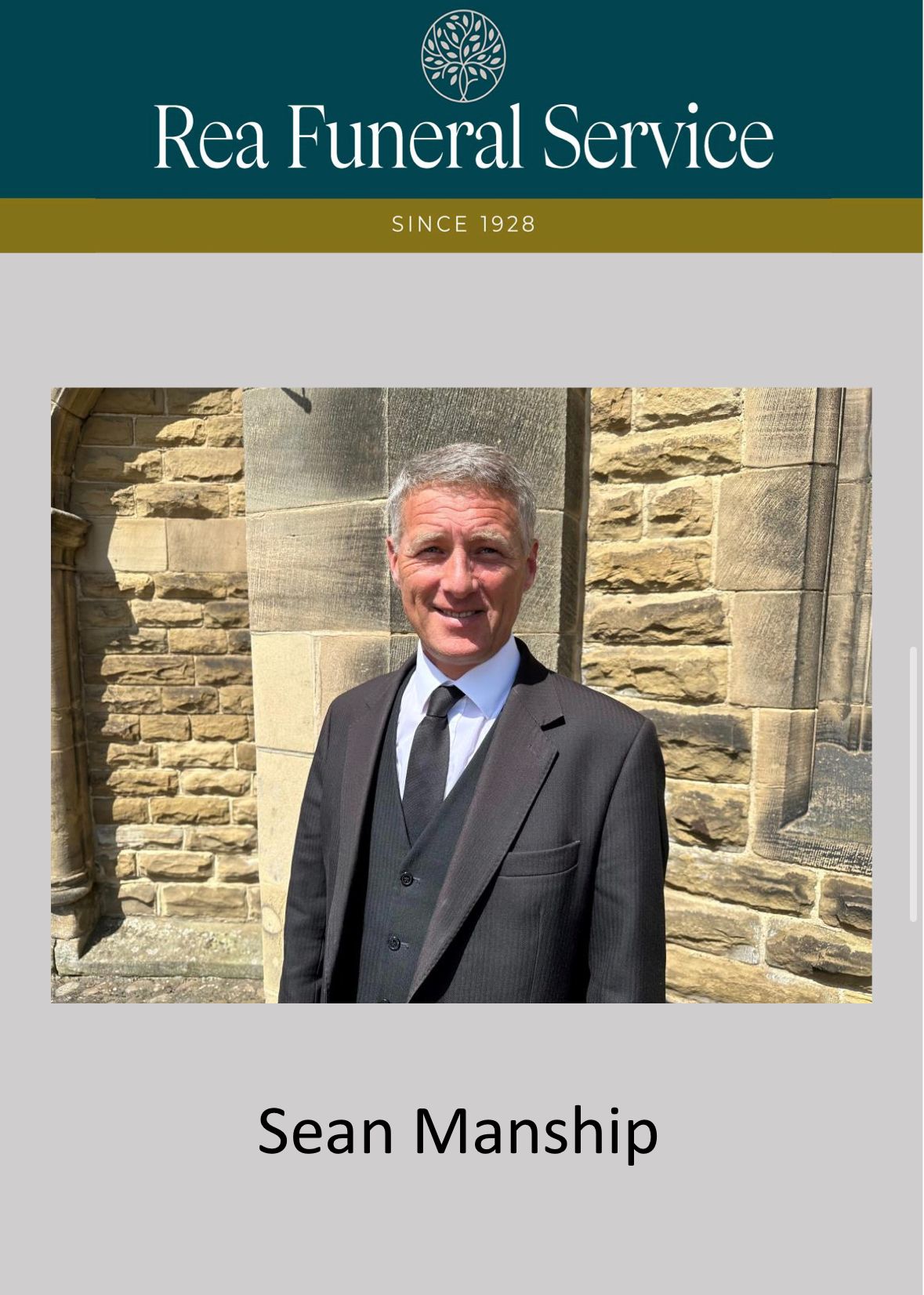 Hi. My name is Sean Manship.
I am a local lad so love that I can support my local community. I feel proud that people I know and sometimes grew up with, trust me to look after their relatives in their time of need. I take a lot of pride in my work and am passionate about supporting local people.
I live with my beautiful wife Dawn in Ingleby Greenhow along with Dawn's sister Sue and our German Shepherd Sadie. While I am not working my favourite past time is metal detecting where I am always searching for lost treasure. I can often be found at my allotment in Great Ayton growing my organic fruit and vegetables. I also love visiting abbeys and learning about history.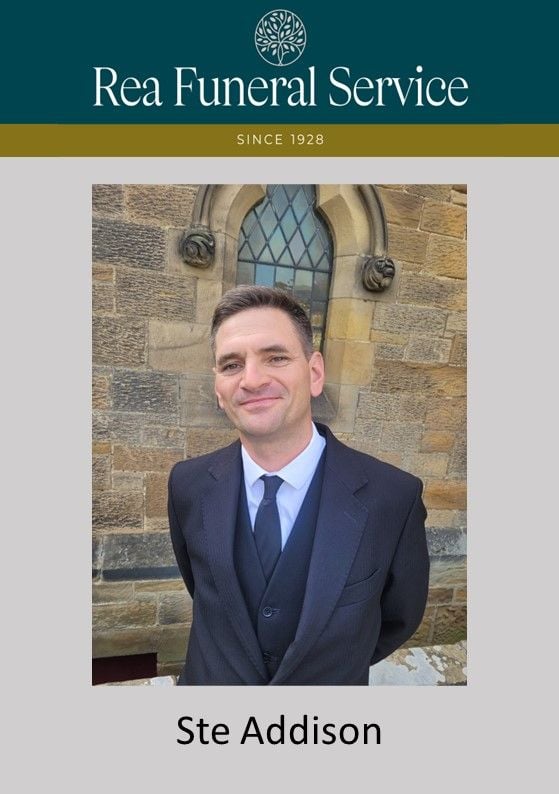 Hello, I'm Steve Addison. I am a firefighter and also part of the team at Rea Funeral Service. I live in Great Ayton with my partner Tracy, son Theo and our two border collies.
I have an active lifestyle and enjoy walking the dogs with my family, visiting places such as the Yorkshire Dales and the Lakes.
I like being outdoors and spend my free time working on my allotment and keeping chickens. I find it rewarding working for a professional team and helping people in my local area.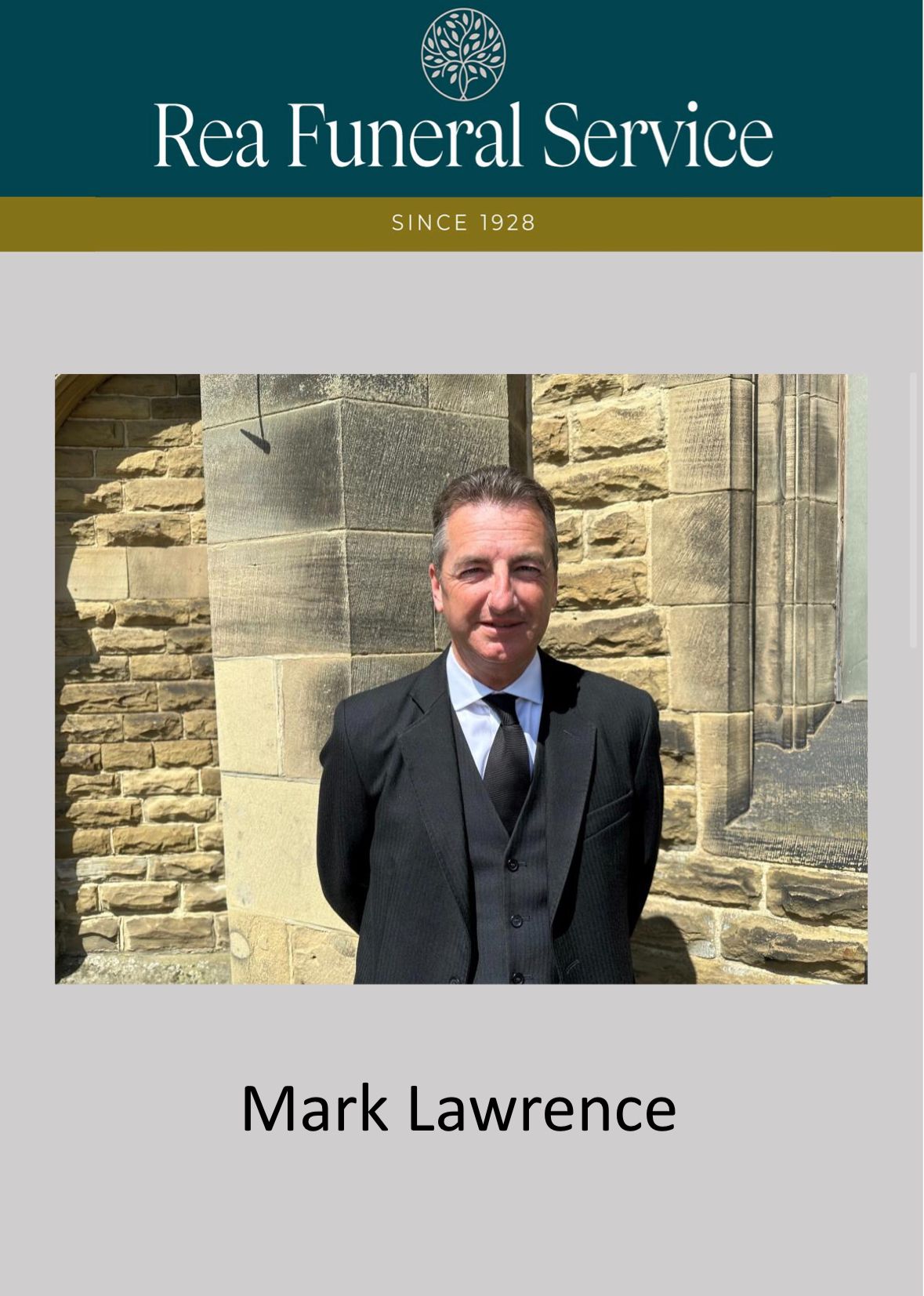 I'm Mark. I will help to look after a loved one as they enter our care – something I feel very privileged to be asked to do by a family. On the day of the funeral I'll work together with the rest of the team, usually driving the hearse or limousine, to ensure the funeral is a dignified and calm event and our family on the day is looked after to the best of our ability.
I'm also the Memorials Coordinator for the business - helping families to choose a fitting memorial, ensuring all the necessary paperwork is completed and liaising with our local Church and Cemetery colleagues and specialist local Stonemasons.
Working as part of a close-knit team within a small family business is really enjoyable. We can laugh together but also recognise when formality and dignity is demanded. I think I have a good eye for detail which comes in useful - especially when helping to ensure our ceremonial vehicles look their best or navigating churchyard rules and regulations for a memorial application.
Away from work I can often be found walking in the Yorkshire Dales - Swaledale and Nidderdale being my favourites - or volunteering for Cancer Research UK who recently surprised me with an award for "outstanding contribution and commitment". Apparently! I was just enjoying myself!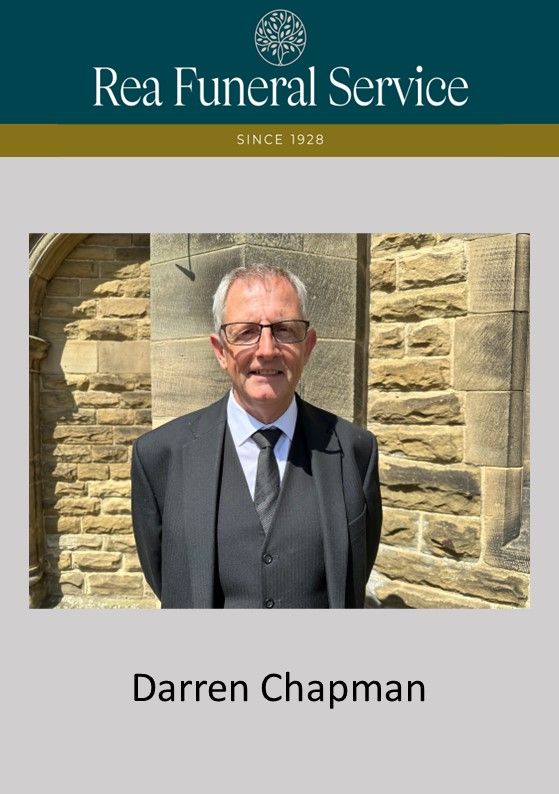 Hi there, I'm Darren Chapman. I live in Darlington and enjoy working in my home town. I love being part of a great team and our ability to always strive for and achieve excellence. I can usually be found behind the wheel of the Hearse which I take great pride in.
In my own time I run a successful Air B&B. I also love the great outdoors and often go camping in the lakes or walking in Gran Canaria. I am also a music technician for a local band, so I always look forward to touring with them and enjoying a few beers.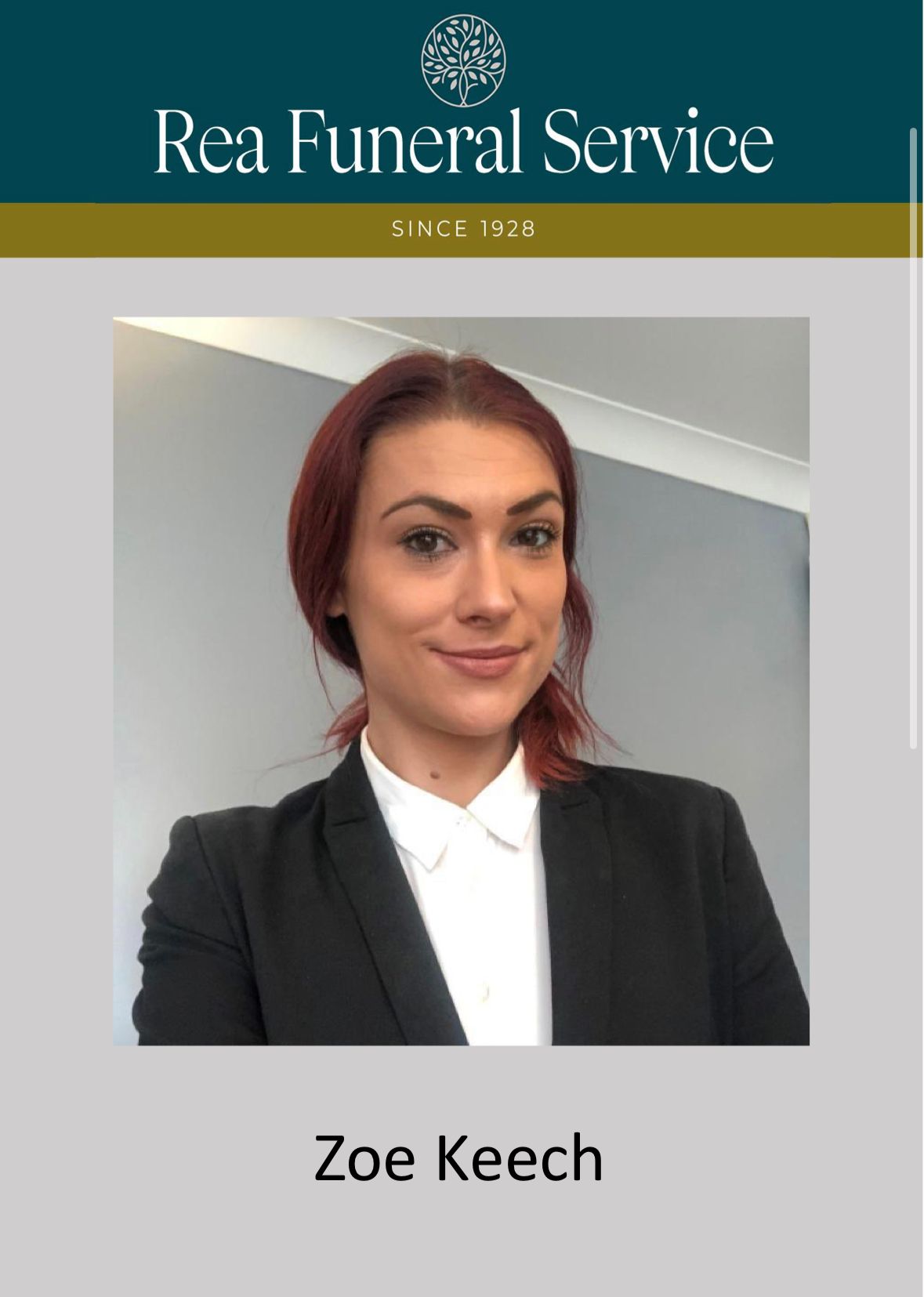 I have been working with Rea Funeral Service since 2014.
I enjoy comforting people and making their experience as stress free and comfortable as I can. I like all aspects of my role and take immense pride in caring for families' loved ones to ensure they look their very best when their families come to visit. It is important to me that families take some comfort that their loved one looks peaceful and at rest in our care. I am a local girl and have lived in Darlington all my life and feel proud and privileged to service the local community.
My hobbies are going out for long walks in the countryside with my dogs and family, I also love gardening and clothes shopping.